HIFON Industry Involvement
2021 Industry Chat: Stacey McKinnon with Shaun Kapusinski
How does technology fit into your company's overall strategy?
Stacey McKinnon, COO at Morton Capital and long-time HIFON member, recently caught up with Shaun Kapusinski, Director of Tech and Ops at Sequoia Financial Group and Founder of HIFON, to discuss the importance of incorporating a tech strategy into any company's long-term vision, no matter the size.
Shaun also shared about the founding of HIFON (a network for operations professionals at independent RIAs), tips for enhancing the employee experience, and much more.
Watch the complete interview here.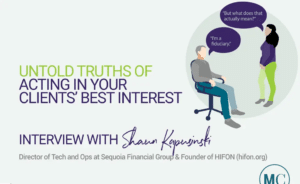 Read Stacey's full white paper on the "Untold Truths of Acting in Your Clients' Best Interest"
Ready to Join?
You're just one step away HIFON membership.