HIFON Industry Involvement
2021 FPA NexGen Gathering
Opportunities in Strategy & Operations
HIFON member Edgar Collado & HIFON founder Shaun Kapusinski presented at the August 2021 FPA NexGen Gathering on the importance and growth of operational roles within advisory firms. They talked about the changing landscape where larger firms require more strategic and operational leadership, as well as the importance of understand the current technology landscape, and realizing the importance of well-defined operational career paths.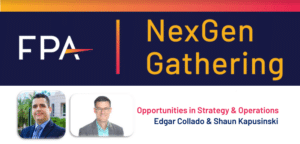 Ready to Join?
You're just one step away HIFON membership.